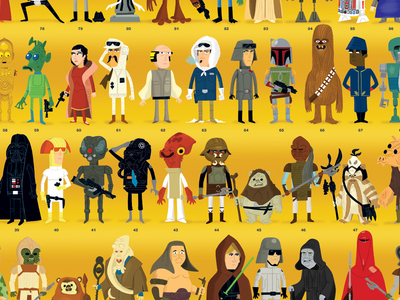 Source
Ok, it may seem I'm late to the party but just not enough time in the day to post all the cool Star Wars art out there! However better late then never and thank you to mandalorian, suicidemonkeyz, Yakface.com and many others for highlighting and emailing this stunner on.
Christoper Lee paints this iconic Kenner/Palitoy collect all 92 (incl yakface) original Vintage Star Wars figure poster (and makes this available as wallpapers and for sale) and tell us more about it...
"My newest (and probably last) compendium poster pays tribute Star Wars and the iconic Kenner card back from the 80's. This one in particular is the 92 card back which covered the entire basic figure assortment.
All of the characters were designed with the toys as reference. I took a few liberties, but the details are limited to what was provided by the figures alone.
Now available!
http://store.thebeastisback.com/star-wars-action-figure-compendium-poster
Various time-lapse process videos can be found here:
https://vimeo.com/user541363/videos
Wallpaper pack (of toy shot) for download (various sizes)
http://bit.ly/18AeyIb "
BUY IT NOW
Related Fly Posts